Detroit Tigers
The 2015 season
By any standard, the 2015 season for the Detroit Tigers must be judged as a failure. After being a model of consistency and earning four straight American League Central Division titles, it all went horribly wrong. From the struggles of the bullpen to the lack of great starting pitching, the team just could not hold other teams in check. Couple that with an offense that disappeared at the worst possible times and it all spells a season that everyone would like to forget.
However, as bad as the 2015 season went, there were some bright spots and reasons for optimism going into next year. Miguel Cabrera won his 4th batting title and show no signs of slowing down. Also, the core of what should be a very decent offense should all be back including key components Cabrera, JD Martinez, Victor Martinez, James McCann and Ian Kinsler. The pitching should be much better as the Tigers make use of their recently acquired pitching phenoms like Daniel Norris and Matt Boyd. And there is no reason to think that the defense will take a step back from a much improved defensive squad in 2015.
The key will be what Mike Ilitch decides to allow new General Manager Al Avila to do in free agency in the off season. There is every indication that there will be enough spending to have the Tigers right back in the thick of things in 2016. One can see with the addition of a position player or two in the outfield and a solid starter and at least two decent bullpen arms, that there is no reason why the fans won't have smiles back on their faces come next April through October. Is it a sure thing, no, but there is reason for optimism.
Detroit Tigers 2015 and 2016 regular season schedules
Click either image to view full size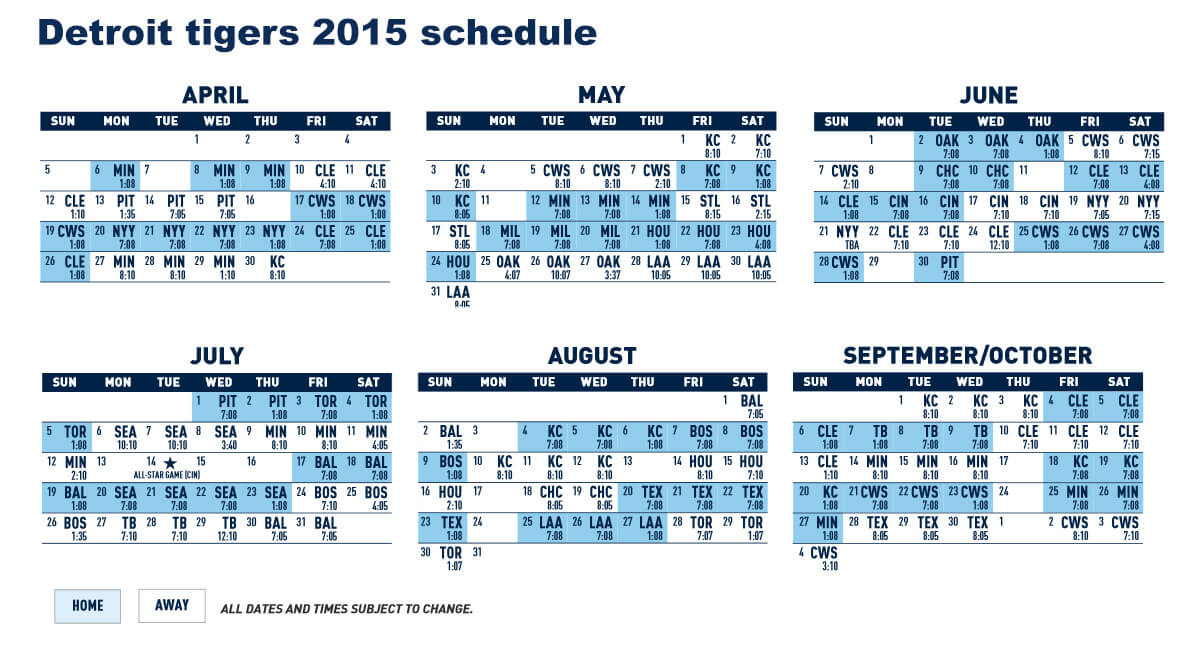 The Tigers are expected to be right back in the pennant race in 2016. That means great times at the Comerica Park once again. So, you will want to be sure and scope out the games you might be interested in right now. Below is the Tigers' schedule for 2016. All you have to do is click on it in order to view the schedule in its full size so you can pick out those key games you are interested in getting tickets for.