Detroit's Comerica Park
a gem of a ballpark in the heart of downtown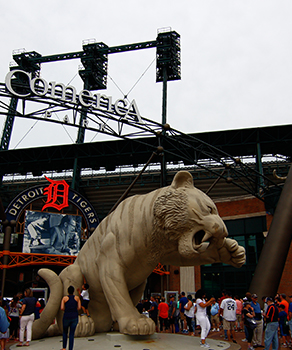 Comerica Park is one of the newer sights in downtown Detroit though it's been a part of our city's landscape since 2000, having replaced old Tiger Stadium as the home of the Detroit Tigers. It's out with the old and in with the new at this incredibly modern ballpark that is home to a museum, a ferris wheel, and an incredible "liquid fireworks" water feature that literally dances to the music. Much more than just a sports venue, it's a complete entertainment destination that's quickly become one of the premier highlights of our city.
One of our favorite parts of Comerica Park is the Walk of Fame, which extends throughout the main concourse to educate visitors on the history of the Detroit Tigers. There are display cases full of historical Tigers items and photographs on the walls, along with lots of information that will turn you from a casual fan into a Tigers trivia buff! If you thought you already loved your home team enough, you'll love them even more after you find out everything there is to know.
The seating at Comerica Park is classic, paying homage to the stadiums of our past. There are five areas of premium seating for those with private memberships. It's been said that no ballpark has a better view of the downtown skyline. You'll want to see that for yourself. The scoreboard is one of the largest in baseball! For reference, it's the same size as the front of the Fox Theatre Office Building on Woodward Avenue, an incredible 180 feet wide!
The rest of the venue is packed to the brim with modern entertainment features. There's the Comerica Carousel, which features intricately hand-painted tigers and chariots, and the Fly Ball Ferris Wheel, which reaches an incredible fifty feet and gives you the once in a lifetime experience of traveling in a giant baseball. Did we mention that both of these are completely wheelchair accessible? No one is left out of the fun at Comerica Park.
We mentioned the Liquid Fireworks display, which you'll find centerfield. The changing lights and sprays of water are synchronized with music. There's no more high tech way to add flair to the exciting moments in the game. Whenever there's a home run, watch for those liquid fireworks to dance in celebration.
If you love to dine before the game, there are many attractions that you'll want to check out within the ballpark. The Big Cat Food Court is a great place to stop for your carnival favorites such as pretzels and elephant ears, and to quench your thirst with some delicious lemonade! It's located conveniently near the main entrance too.
If you're looking for something more exclusive, you can become a member of the Tiger Club and Tiger Den premium seating level, which gives you access to a private bar and private dining at the Tiger Den Lounge. If you're renting a party bus to go to the game, you'll want to note that the Tiger Den Lounge is available for rental for private parties!
Equally private is the Tiger Club, which serves a full buffet to satisfy even the hungriest diners in your bunch! It's for members only of course, and has its own private entrance at the corner of Elizabeth and Witherell. This one is also available for private parties.
If you're not quite rating VIP status yet, you can still enjoy the finest beers from here and abroad at the Beer Hall. This tavern boasts an incredible seventy foot bar. You'll feel right at home here. Another great choice for dining is the Brushfire Grill, an open air area with all your favorite ballpark grilled treats. Don't miss the fountain which features a huge floating baseball!
Finally there's also Mike's Hard Lemonade Upper Deck Lounge, with a great bar and seating area. You'll appreciate that they crank the AC in here on those sweltering days, as you relax with your ice cold hard lemonade. You can find this one in section 330 on the upper concourse.
Shoppers rejoice, there are a total of five retail areas within the park! You can stock up on all your favorite Tigers merchandise from shirts to mugs, from guides to baseballs! If you want to pick up some Tigers merch on non-game days, you can even go to the main retail store on Witherell (near Adams) Monday thru Friday from 10AM to 3PM (non-game days only).